Todd Stephens, President
Todd has served as President of the Technology Assistance Division for the National Federation of Kentucky since 2012. Todd is a self-employed vendor in the Kentucky Business Enterprises (KBE) Program. His company, TLQ Vending Services LLC provides canteen and vending services to more than 2,500 IRS Federal Employees. Todd also serves as both project manager and state coordinator for NFB-NEWSLINE Kentucky, an audio reading service for the print impaired. He was employed by Independence Place, a Center for Independent Living (CIL) from August 2009 to October 2015. Todd served as the center's Senior Project Manager. He also served as Assistive Technology Specialist, where he provided technical education and training to individuals with disabilities. Prior to his work at Independence Place, Todd worked for Wells Fargo Bank in CA from 1988 to 1999 as a Financial Analyst, Business Underwriter and Consumer Underwriter.
Todd studied Assistive Technology at the Cisco Academy for the Vision Impaired (CAVI), headquartered in Perth, Western Australia. He earned his certification in Assistive Technology Information from the agency known as Equal Access to Software Information (EASI) in conjunction with the University of Southern Maine in June 2012. Todd also engages in website accessibility consulting for businesses, schools and individuals. He is a member of the International Webmasters Association (IWA). He is also a member of the Governor's Councils: Kentucky Assistive Technology Service Network (KATS) and Kentucky Office for the Blind State Rehabilitation Council (SRC) where he served as chair from April 2017-to September 2018. Todd was recently elected to the KBE Blind Vender Committee where he is currently serving a two-year term that will expire in late 2020. He served on the Red Cross Wheels paratransit advisory board, and Mayor's Commission for Citizens with Disabilities in Lexington before relocating to Ashland, KY.
Todd Stephens earned his MBA in Finance from Golden Gate University located in San Francisco, CA and a BA from the University of Kentucky in Business Administration. Todd serves as Second Vice President of the NFB Kentucky State Board of Directors; he is the Secretary of the NFB Ashland Chapter, and has been affiliated with the National Federation of the Blind since 2003. Todd enjoys studying technology, designing accessible websites, reading, writing and traveling.
Sandra Williams, Vice-President
Sandra Williams is a full time Home management instructor employed by the Kentucky Office for the Blind's Charles W. McDowell Center, a rehabilitation center for the visually impaired, located in Louisville, KY. She is a true advocate and believes very strongly in assisting those with disabilities through education and training so that they can advance their independence.
Sandra Williams is a resident of Louisville, KY and has earned both undergraduate and graduate degrees from the University of Louisville.
Sandra has been a member of the National Federation of the Blind for 20 plus years and has held a variety of positions on the local and state board.
Sandra enjoys teaching, public speaking and singing in her church's choir.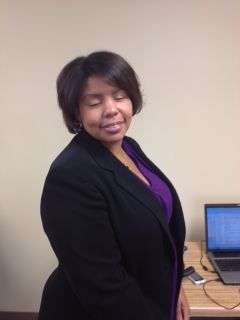 Hellena Emery, Treasurer
Hellena is a resident of Louisville and is a graduate of the National Statler Center for Careers in Hospitality Service located in New York. Currently, Hellena is employed at the Kentucky Exposition Center where she works in the Premium Services department.
Hellena Keaton has been a member of the NFB for 20 plus years and attended her first NFB National Convention in Anaheim, CA in 1996.
Hellena LaTrese Keaton is a real music connoisseur; she enjoys crocheting, canoeing and playing cards.
Angela Dehart, Secretary
Angela Dehart has recently accepted a position with Applied Behavioral Services (ABS) as an Intervention Specialist in Cincinnati, OH. Prior to her position with ABS, Angela taught children with Moderate to Severe Disabilities in the Kentucky Public School system for three years.
Angela earned her degree from Morehead State University in Special Education with an emphasis in Moderate to Severe Disabilities in 2014. She is currently pursuing her Master's degree in Education at the University of Cincinnati in Foundations in Behavior Analysis.
Angela Dehart has been a member of the NFB since 2002. Angela is the recipient of both national and state NFB Scholarships. She is one of the founding members of the NFB kentucky Ashland Chapter. Angela currently serves on the NFB of Kentucky State Board of Directors; she is the President of the National Association Promoting the Use of Braille (NAPUB), and serves as Secretary for the Entrepreneur Division in addition to serving as Secretary for TAD. She was also a former president of the NFB kentucky Student Division.
Angela Dehart enjoys traveling, listening to music, cooking, technology, and social media.
Danielle Burton, Program Manager
Danielle is a student at Eastern Kentucky University majoring in Deaf Studies. After receiving her BA, Danielle plans to get her certification to teach students with visual impairments. Danielle serves as Secretary on the national board of the NFB's Deaf-Blind Division and is a member of the NFB Kentucky Board of Directors.
Danielle has also been the recipient of both national and state NFB Scholarships. She has been fortunate to have had the experience to attend one of the NFB's training centers, Blind, Inc., in Minneapolis, Minnesota. Danielle attended the Helen Keller National Center for Deaf-Blind Youths and concluded her studies at this center on 11/3/2017. Danielle also attended Guiding Eyes in New York, where she got her first guide dog, Willa.
Danielle enjoys reading, swimming and rock climbing.
Scott Spaulding, Communications Manager
Scott is a Louisville resident and is an active volunteer serving the community in every capacity that he can. Scott Spaulding received his B.A. in communications from the University of Louisville in 2012. He has been a member of the NFB since 2003. Scott enjoys Pod Casting as well as learning and teaching technology.
Cindy Smith, Board Member
Cindy Smith, TAD's newest elected board member is a resident of Louisville and is a member of the Greater Louisville Chapter of the National Federation of the Blind of Kentucky.
Cindy is employed at the Charles W. McDowell Center as a receptionist; she has been in this position for the past 4 years. Cindy Smith has a Masters degree from the University of Kentucky in Human Development and Family Relations.
Cindy enjoys her job, playing with her dogs, visiting with her children and grandchildren. She also enjoys UK sports, and studying the Bible.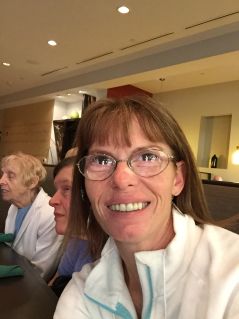 Nickie Pearl, TAD Consultant, Presidential Appointment
Nickie Pearl is a life long resident of Louisville, KY. Nickie has served the Greater Louisville chapter since 2005 as well as other divisions within NFB of Kentucky. In 2015 Nickie Pearl was elected to the board of the NFB of Kentucky. She has also been the social media coordinator for NFB of Greater Louisville & NFB of Kentucky for several years.
Nickie is a tireless advocate for herself & her fellow blind piers. Nickie believes that accessible technology is another piece of the equality pie & the knowledge of it is essential for education, career & everyday life.
Nickie enjoys being outdoors and working in her yard, creating tactile art, traveling and adventures, hanging out with friends , playing cards, and reading books.
Ryan Harvey, TAD Consultant, Presidential Appointment
Ryan served as Broadcast Network Administrator and Assistive Technology Instructor for Fedora Outlier, LLC, a national deliverer of consulting, teaching, and support to the blind and other disabled communities.
Ryan is one of TAD's authorities in all things Apple. He is proficient in MS Office, web design (HTML), particularly in audio manipulation. Ryan received high praise for his work in streaming the 2011 NFB Illinois State Convention from NFB President Mark Riccabono ; he has a proven track record in audio editing and production.
Ryan Harvey earned his B.A. in Communications from Trinity Christian College in Palos Heights, IL in 2012. He has recently earned his certification in Comptia A+ in computer and network technology.
Ryan is an At-Large member of NFB Kentucky and resides in London, KY. He loves teaching individuals with disabilities so that they can also maximize their independence.
Justin Reagan, TAD Consultant, Presidential Appointment
Justin Reagan resides in Bowling Green, KY. Justin is presently on leave from school as he takes time to focus and train at the Charles W. McDowell Rehabilitation Center in Louisville.
Justin Reagan had been a tremendous technology resource for the faculty and staff at Volunteer State Community College, especially in assistive technology. He has mastered: jaws, NVDA, Google TalkBack, Shine Plus for android, and Mobile Accessibility for android. Justin has also created his own website . Check him out at Justin's site. He welcomes your comments and/or suggestions!
You'll often find Justin doing some of his favorite hobbies at home, such as playing on his drum kit, watching Netflix, helping friends and family with their technology problems or accessibility problems. In addition, Justin likes to play Pac-Man world two, or arcade classics. Not only is he a gamer, he is a skilled guitarist and has played most of his life.
To return to the TAD Contact page, please Click Here